Meaning of winning lots of money
Antique Kipper Tarot Cards

Daily Tarot Horoscope
No. 11 Winning lots of money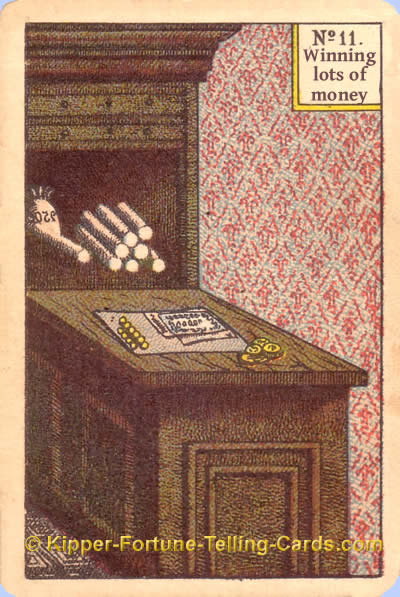 Meaning of the Kipper Tarot card Winning lots of money:
The Tarot Kipper card winning lots of money shows you material happiness and victorious developments. But it also can be a warning not to be wasteful.
Your daily Horoscope for today, Friday 31st October 2014:
Investments are favored today. There is also a large sum of money coming to you. Perhaps receive an inheritance?
Your health is very good today. You are full of energy and you shows it out, too.


Your Oracle Horoscope slogan for today:
Money spoils the character ? No! With much money you can afford it.


Please take also a look in our >> Cartomancy Shop >>. You will find hundreds of Tarot, Fortune Telling Cards and much more for cartomancy with Tarot.